Volunteer
We'd love to have you involved!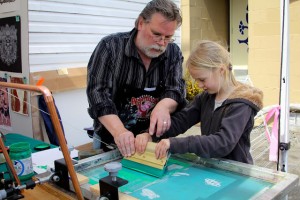 There are many ways to engage Elevate as a volunteer and opportunities for all ages and skills.
We're looking for people who like to build things, move things, problem solve, hang posters, paint things, play with paint, help the kids, decorate the room, run sound, hang lights, keep things on time, feed people and generally Elevate from behind the scenes!
What do we want, and what do you get?
You have a love of the arts & a desire to create amazingness in our downtown for a weekend.
We ask for a minimum 8-hour commitment between now and June 9. (June 6 & 7 are minimum 4-hour shifts, prior & post event shifts are shorter). Of course, we're HAPPY to accept more time if you'd like to give it! 
You are expected to attend an orientation – this will be held May 28 or 29, downtown (will be confirmed soon).
You get access to our amazing hospitality suite during the event – catered by Gourmet Girls
You get the deep appreciation & love of the planning team!

You get an Elevate "laminate" (backstage pass & lanyard)

You are invited to attend a catered thank you party on June 15
There are positions that require some responsibility and extended commitment, as well – if you're interested in being MORE involved, let us know.
We also want to pair up older volunteers with younger ones – so if you have a desire to do some mentoring, and have a skill you'd like to share with a young adult looking to learn, let us know about that, too!
Please fill out the form below and tell us how you'd like to help. We'll get in touch asap to get you sorted out.
*Please note – volunteers under 16 must have written parental consent, and we encourage families to volunteer together.