Here it is – a play by play of our 5 day adventure! In addition to this epic calendar of events there are roving performers, workshop leaders, craft captains, mandala painters, buskers, jugglers, stilters, fiddlers, clowns, ukulele players and more not even listed on the schedule. They offer random acts of arts and culture for your pleasure. We love our artists and contributors – holy smokes! Check it out!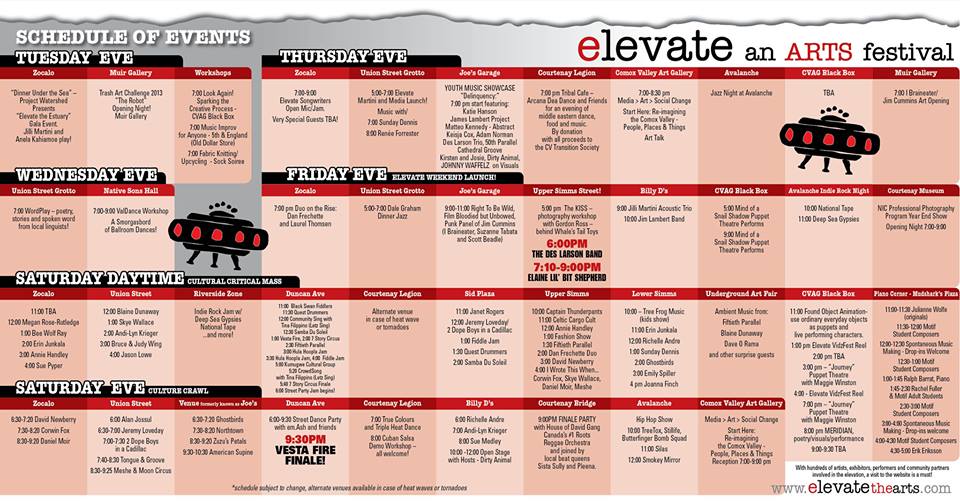 Click this link below for a downloadable PDF of the full schedule!
ALL WEEK:
Elevate the Estuary -  Project Watershed is presenting Elevate the Estuary at Elevate the Arts as a wrap up of the 2013 Keeping It Living Campaign. Art submitted to the Auction and Competition will be displayed at Zocalo's from June 3rd to the 8th – bid or vote for your favorite artwork onsite or online www.keepingitliving.ca.
On the Edge – Putting a Face on Homelessness, an exhibit of photographic portraits by Barry Peterson and intimate stories by Paula Wild, Union Street Grotto
TUESDAY JUNE 4
Dinner Under the Sea part of Elevate the Estuary – Zocalo
Opening Night Trash Art Challenge – Muir Gallery
Playshop - Look Again! Sparking the Creative Process
Playshop - Music Improv for Anyone
Playshop - Intro to Fabric Knitting
WEDNESDAY JUNE 5:
WordPlay: Poetry and Spoken Word Event - 7 pm Union Street Grotto
ValDance Ballroom dancing Workshops – all experiences welcome! Native Sons Hall 7 pm
THURSDAY JUNE 6:
Tribal Cafe Dance Event -7-10 Courtenay Legion
I Braineater – Art Opening Exhibition - 7 pm Muir Gallery
Elevate MARTINI Launch/Reception – 5 pm Union Street Grotto
Elevate Supa-Jam and Open Mic – 7 pm Zocalo 
MUSIC/POETRY event – 7 pm Union Street Grotto
"Delinquency" – Massive Youth Music Showcase – 7 pm Joe's Garage
ART TALK: Media > Art > Social Change -  7pm – 8:30pm CVAG
Jazz Night – TBA
FRIDAY JUNE 7th:
Media > Art > Social Change // From Here to There - 10am – 9pm CVAG
The KISS photo workshop with Gordon Ross 5 pm – Simms Alley
Dinner Jazz at Union Street – 5 pm – 7pm
BIG Upper Simms Alley Dance Party w/ Juno Award Winner Elaine L'il Bit Shepard & The Des Larson Trio 6 pm – 9pm
Mind of a Snail Shadow Puppet Theatre – 5 and 9 pm – CVAG Black Box
Dan Frechette Duo plays the Zocalo – 7 pm
Right to be Wild Punk Rock Retrospective – 9 pm – 11 pm Joe's Garage
Jilli Martini & Jim Lambert and Friends Live Music at Billy D's - 9 – 11 pm
Indie Rock Night – w/ Deep Sea Gypsies and National Tape from Victoria – 10pm – late @ The Bridge Lounge
SATURDAY JUNE 8th:
Cultural Critical Mass - (readings, music, art, engagement, workshops, circus, buskers,fiddles, puppets) Venues All Over – 10 am – 5 pm
Media > Art > Social Change // From Here to There – 10am – 5pm CVAG
2nd Annual Underground Art Fair 10 am – 5 pm – Lower Elks Hall
Music on the Buses – 10 am – 5 pm
Duncan Avenue Commons – 10 am till 10 pm – Duncan Ave
Piano Corner - 11 am – 5:00 pm – Mudsharks
Sid Plaza 1st annual Elevate Poetry Fest, 11 am Janet Rogers Performs
Duncan Ave Daytime Finale - Letz Sing, 7 Story Circus and more  5 – 6 pm
Cultural Crawl (Union Street, Zocalo, Billy D's, Joe's Garage, Legion, CVAG Black Box) – 6 pm – 9:30 pm
Media, Art and Music - Street Party with Em.Ash and Friends and CVAG Media Art and Social Change Open House -6 pm – 9:30 pm – Duncan Ave
Dance Showcase @ The Legion – Triple Heat Dance Performance at 7, Cuban Salsa Lessons at 8!
Vesta Fire Show - 9:30pm Duncan Ave
Hip Hop Show at The Venue Formerly Known as Joe's Garage - 10pm
NIGHT TIME FINALE! Sista Sully, Pleena and House of David Gang – Bridge Lounge 10pm – 2am ($10 advance tickets at Bob City Records <– only ticketed event)